What would it be like to have more freedom? More time? To turn your passion into a full time, profitable career that you loved?!
ANY OF THIS SOUND FAMILIAR?
YOU'RE READY TO BE TAKEN SERIOUSLY
---
It's time to show everyone that this isn't just a side hustle or hobby. You want to turn this into a real business and love what you do!
YOU'RE OVERWHELMED
---
Branding, pricing, building a website, learning how to market...it's A LOT! You know you can do it, but you don't know where to start.
YOU'RE STRUGGLING
---
You can't seem to get any real clients, you know, one's that aren't your neighbor, and you know you should be charging more.
IMAGINE IF…
YOU COULD WORK ONLY WITH DREAM CLIENTS
---
Building a brand that attracts the right people isn't quite as hard as you think!
YOU COULD MAKE MORE MONEY DOING WHAT YOU LOVE
---
With the right systems and workflows, you'll be able to do more of what you love, and less of what you don't!
YOU COULD HAVE THE BUSINESS OF YOUR DREAMS
---
It's possible to be a creative with a very profitable business, you just have to know how to do it!
⇢ HERE'S THE DEAL: THIS IS ALL WITHIN REACH! ⇠
A FULL CALENDAR WITH DREAMY AF CLIENTS WHO ARE HAPPY TO PAY YOU?
IT'S POSSIBLE!
introducing
THE BUSINESS BLUEPRINT
A UNIQUE ONLINE PROGRAM TO HELP YOU START, BUILD, AND GROW YOUR PHOTOGRAPHY INTO A PROFITABLE BUSINESS YOU LOVE!
Get Access to my entire program which is a step-by-step proven model to create, build and scale your photography business. 4 modules with 27 video lessons, workbooks, PDFS, templates, resources, and more! Also, a few kickass bonuses including my best templates and swipe files from emails to contracts, and a lesson on how to use referral programs!
Enroll Now
The Foundation
Want to create a sturdy, long-lasting, business? This is how you do JUST that! We'll begin with some mindset work, overcoming our fears, defining who we are (or want to be!) as artists, and then begin digging deep into all elements of our brand, and who our dream clients REALLY are! After this first section, you are going to see yourself, your business, and your client in an entirely new way.
Module One
The Numbers
It's time to talk about ALL things green! Money, sales, pricing, expenses. All your questions on the uncomfortable hot topics will be answered! We're going to cover EVERYTHING you need to know in ORDER to make an actual INCOME.
Module Two
The Framework
NOW comes the FUN PART! Let's talk all about the day-to-day operations side. Organization, workflows, contracts and policies, and all these programs to use to 'make life easier'?! Yeah, it's overwhelming all the things you need to have and do, but I'm going to walk you through it step by step so you are able to choose what will work best for YOU and YOUR business!
Module Three
The Marketing
The other Mom's on the cul de sac love throwing you $50 here and there to take photos of their kids, but it's time to expand beyond the neighborhood. You're ready to get some real clients, those who want to pay you what you're worth, and want the whole experience!
Module Four
WHAT'S INSIDE THE PROGRAM?
Money Mindset: We are going to talk about vital money mindset shifts like overcoming blocks, celebrating wins, and setting goals so we can shatter the income ceiling.

Expenses: Learn the BIG mistake most artists make when it comes to pricing, the two kinds of expenses you need to know, and how to calculate how many hours you are ACTUALLY working.

Pricing for Profit: Hard truths, 3 things to consider when choosing your pricing structure, and how to get rid of your guilt for charging your worth!

Photography Pricing Structures: We'll discuss in-depth the pros and cons of the most popular pricing structures for photographers including shoot and burn online galleries, and in-person sales.

The Three types of Branding: The 3 must-have types of branding your business needs and the secret to attracting your ideal clients every time. Emotional, visual, stories. We are diving into all 3

Search Engine Optimization: I get it, it's confusing. The tech side of business is overwhelming. But SEO is one of the top ways people will find you and your website, so you need to know the basics!

Email Marketing: Let's get you started with email marketing! One of the most powerful ways to market your business, is by getting right into customers and potential clients inboxes!

Content Calendars: Let's talk content creation and I'm going to show you a way to map out your content and your marketing plans for an entire year!

Social Strategy: There is a difference between using social media, and search engines, and I'm going to share with you more on how to make a strategy to utilize both for powerful marketing.

Facebook Basics: Let's talk about utilizing Facebook as a way to market your business, including one of my personal favorites, a VIP client group!

Instagram 101: I'm walking you through the top tips I have for being found on Instagram, optimizing your bio, and utilizing the platform for actual bookings and marketing.

Referral Programs: One of the top ways I get new clients, referrals! In this video I'm showing you the exact system I've created to make referral marketing another way I get new people in the door every year.

Finding Your Voice: Who are you as a creative, artist, and business owner? We'll discuss how to be inspired, without copying, and how to discover your unique artistic voice

Pricing Menus: I'll show you how to create pricing menus for both digital and print products that will increase sales based on psychology-backed methods.

Client Communication: The importance of good and effective communication in your business, and how to keep up with it when you are a busy business owner!

Customer Service: My favorite ways to improve the customer experience and how you can excel at delivering to happy customers who return and refer you again and again!

Photography Workflows: The importance of workflows, and how to create both a pre and post-session workflow that keeps you organized and consistent with every client.

Contracts & Policies: The difference between a studio policy and a contract. Common policies your business should have, as well as things to always address in your contract!

Welcome Guides and Client Prep: What goes in a client welcome guide? How do you make one? How do you prep clients for a successful session? We'll cover all of that here!

How to Get Raving Reviews: How I ask my clients for reviews, the exact questions I ask to get unique and moving testimonials, and how I use these in my business.

Tackling Fear, Imposter Syndrome, and Comparisonitis: We'll face the mental blocks holding you and your business back head-on and overcome our fear of success.
Lauren knows her stuff. She doesn't try to teach you only her ways of doing things, but gives you many options. Plus, she tells you what you need to hear. Since this course, I'm more organized and doing things on a schedule is way better than just winging it every day. Having an actual plan makes a huge difference and keeps me visible to people.
Jen, Blueberry Hill Images
HI! I'M LAUREN GRAYSON, YOUR BUSINESS COACH & EDUCATOR
LET'S DO THIS THING!
I'm a Mother of 3, wife, and I've been a professional photographer for over 10 years now. In 2022, my husband left his career in the medical field to join my business, and I'm showing you exactly how I started it all, with my photography business, inside The Business Blueprint.
BUT, THE BEGINNING WASN'T SO GLAMOROUS... 🥴
I started my business in a tiny 570 square foot apartment as a single Mother with an old, outdated DSLR, and a laptop that barely worked.
Truth be told, looking back, I had no business in starting a business. But, I had big dreams, goals, oh...and, I had just lost my job.
I worked my ass off and quickly learned that creativity just wasn't all that was going to be needed to survive. The big AHA moment for me? I was going to need to get good at business, if I wanted to avoid getting another job I hated, and turn my passion into a real career.
And so I did…and I watched my entire business transform in ways I could have never imagined. I doubled, then TRIPLED my previous income working a traditional full time job.
I spent years learning from business educators outside of the photography world. Now, I've put that education into creating a roadmap specifically for other photographers to start, build, and grow their business.
NOW IT'S YOUR TURN 💣
The Business Blueprint is the guide I wish I would have had back when I started my own business. And now, it's all yours, to learn at your own pace.
Messages from women inside The Business Blueprint...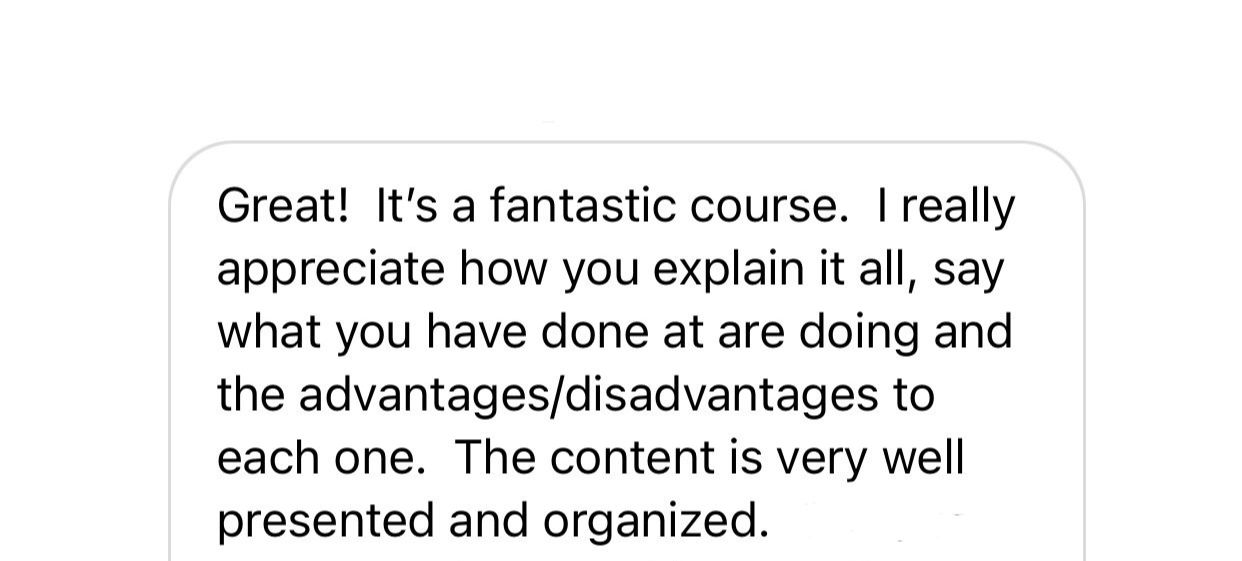 BY THE END,
YOU'LL BE ABLE TO:
---
BOOK YOUR DREAM CLIENTS
---
KNOW WHAT TO CHARGE
---
EASILY MARKET YOUR BUSINESS
---
FEEL CONFIDENT AND ORGANIZED
---
Melissa increased engagement and leads!
"I love how open Lauren is with everything. I loved the content of this course because even though I have heard some of it before, you really made things click with me so I could actually make it work for me. Since the program and implementing the strategies, I have noticed more engagement on social media, and inquiries are booking more than before. Clients are happy with the communication and quicker galley delivery with my new system!"
MELISSA
Melissa Anne Photography
Taryn used this to get out of a rut!
"I took one of Lauren's courses when I first started and it changed everything for me so I felt like the Business Blueprint would help me get out of my rut. I took marketing in college, but I was never able to have it cross over to my business. This course is awesome because it's everything important broken down into understandable dialogue and it's easy to know how to implement it into your business."
TARYN
Taryn Schultz Photography
Cynthia had big light bulb moments!
"Before taking the Business Blueprint, I didn't find any success with the advice I was given. After working with Lauren, I realized that all aspects of my business are connected. Lauren's encouragement to bridge the disconnect I was feeling in how I was presenting myself to my clients and on social media motivated me to start opening up more. The content of this course is fantastic! I loved learning about my ideal client and storytelling, as well as what to include on each page of my website."
CYNTHIA
Cynthia Dawson Photography
Amanda got organized and implemented so much!
"I loved seeing how Lauren does things. I was eager to dig into the new material each week and learn more from her! I actually finished the lessons! Since this course, I feel so much more organized and I've been able to create prep and styling guides, a referral program, feedback forms, and more!"
AMANDA
Amanda Peasley Photography
© Your Company Name | Privacy Policy & Terms of Use